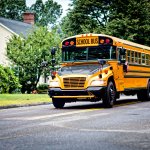 Back to School Driving Safety Reminders
Back. To. School. Three words that are bittersweet for students and parents alike. Back to School means summer is winding down and students and teachers are able to reunite with colleagues whom they may not have seen or spoken to since class was last in session. Depending on the region, "Back to School" typically occurs around late August or early September.
The Back to School period can also be felt by those who are not active students or faculty. One obvious example is the annual increase in road traffic in one's local area. Many drivers bemoan at the first sighting of a yellow school bus during the new school year.
It is no secret that when schools resume session, roads and crosswalks get a lot busier. However, what many drivers who are not active students or faculty tend to forget that they were, at one point, passengers on that yellow school bus that they are currently stuck behind. Before losing their cool, drivers should take a deep breath and keep the following tips in mind.
Obey all signs
The majority of cities and towns in New England operate a reduced speed limit in school zones. This gives drivers sufficient time to slow down and look for pedestrians crossing the street. Reduced speed limits especially protect younger students who may be too engaged with their smartphone or friends to notice oncoming traffic. Drivers should always obey all traffic signs and reduced speed limits in all areas, but especially in school zones during the school year.
Avoid busier times
Early morning and mid-afternoon are typically busier times to be on the road in school districts. If traffic gets especially busy in your area during schooldays, plan your commute accordingly, especially if your employer allows for flexible start and end times.
Keep calm
It can be very easy to lose your cool when stuck behind a school bus, especially when you are late for an engagement. Before you break the law and pass a school bus while its stop sign is raised, stop, take a deep breath. If you continually find yourself stuck in traffic, consider using a driving navigation app such as Waze to discover alternate routes to your destination. Also consider the fact that many bus drivers and parents dropping their students off might be learning a new route and will take time to do so. Drivers traveling on unfamiliar routes will naturally require some time to get the hang of things.
To recap, make sure to obey all traffic signs, avoid times of increased traffic if possible, and overall, keep your cool. Best of luck to all students and faculty returning to school!