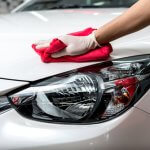 DIY: Caring for Your Car
Summer is a popular time of year to give your automobile a clean and refreshed look. Like one's physical appearance, many drivers take great pride in making sure their vehicle looks its best during a very busy time of year. When caring for your car, there are two main areas to focus on: the interior of the vehicle, which includes the seats, upholstery, and the exterior, which includes the main body of the vehicle, tires, and wheel wells.
Cleaning and maintaining your vehicle extends its life and maximizes its resale value. When it comes to car care, many opt for the do-it-yourself approach, especially when it involves vintage or highly-valuable vehicles. However, before scrubbing away, there are a few tips you should keep in mind to ensure you do not damage your vehicle and properly clean both the interior and exterior.
The right touch
Very often, car owners will use a regular towel or old rag to clean the outside of the vehicle. Car care experts warn against this strategy, as your car's paint may be damaged in the process. Instead, opt for a microfiber car cloth or mitt, which will thoroughly clean the exterior of your vehicle, while also preserving the paint.
Wash, rinse and repeat
Due to a lack of time or knowledge, many car owners will only use one bucket of water to wash their vehicle. Car care experts advise using at least two buckets of water, especially for larger vehicles. A good tip is to use one bucket that only has warm water and soap, and one bucket that is strictly water. When rinsing your cloth or mitt, it's best to use the former.
Avoid circular motions
Another misnomer about car care is that you should wash in circular motions. Doing so increases the chances of creating tiny scratches on the exterior of the vehicle. Instead, experts suggest washing in straight lines or in a Z-shaped pattern.
Dress appropriately
This rule is common sense, but often violated. First, make sure to wear clothes that are comfortable, but that you do not mind getting dirty or wet. Also, make sure to remove any dangling jewelry, belt buckles, sweatshirts with metal zippers, watches, or any other accessories that may damage your vehicle's paint job.
Interior care
The interior of the vehicle is obviously where you spend the most time, so you should be sure that you regularly clean it for the same reasons you would the exterior. Make sure to use a high-powered vacuum to remove all dirt and debris. Remove your floor mats and give them a good shake to remove as much filth as possible.
Car seats should be cleaned as well. For leather seats, use a leather conditioner every six months at a minimum. For cloth seats, use a fabric guard to remove stains and maintain their condition. It's also recommended to scrub the carpet of the vehicle, which often gets dirty very quickly due to passengers frequently entering and exiting the vehicle. You can also use all-purpose wipes to clean the dashboard, windshield, console and other main sections of your vehicle's interior.
Regularly cleaning and caring for your vehicle will allow you and your passengers to ride in comfort and cleanliness, while also preserving the resale value when it comes time to upgrade.