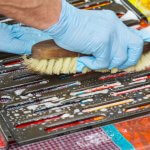 How to Properly Clean a Grill
Grilling is one of many treasured summer activities. Whether simply cooking dinner for your own family or hosting a larger outdoor gathering, grilling is a great way to enjoy delicious food and pleasant summer weather. There are several different types of grills and meals that can be prepared using an outdoor grill, which is one of the main reasons why it is such a treasured pastime.
While you do not need to be a culinary expert to operate a grill, you should strive to be an expert when it comes to grilling safety. One of the main ways one can exhibit safe behavior when it comes to grilling is to thoroughly clean the grill before and after using it. Doing so will help the grill operator and guests avoid any injuries, while also ensuring that the grill is sanitary, which is especially important when cooking for a large group.
Scrub, Wash, Repeat
As mentioned, a grill should always be cleaned prior to use. However, before beginning your cleaning duties, make sure the grill is turned off. Also, if the grill has been used recently, make sure to allow sufficient time for the grill to cool down.
Once it is safe to touch the grill, put on protective gloves, remove the grates, and scrape off any excess charcoal, grease and food particles using a grill brush and scraper. Next, place the grates in a sink and let it sit in a mixture of warm water and soap. Letting the grates sit in warm water and soap will make it easier to remove any excess debris.
Dig Deep
After the grates have been properly cleaned, the next thing you'll want to do is thoroughly clean the interior of the grill (below the grates). If it is a propane grill, make sure to disconnect the tank (consult the grill manual if you're unsure on how to do so) and cover all heating elements with foil.
Using a grill brush and grill degreaser, thoroughly scrub the inside of the grill to remove grease and debris build up. For added cleanliness, you may also use a thick, durable rag, soaked in warm water and soap. It's also good to use said rag to clean the knobs, handle and other parts located on the exterior of the grill to minimize the spread of germs.
Don't Forget About Utensils
Since grilling utensils are used to cook and transport food, you should also be sure to clean them as well. Remove and dispose of excess charcoal and food particles in a trash bag before running the utensils through warm water and soap, your dishwasher or both. Store your tongs, spatula and other utensils in the kitchen rather than outside, where they may be exposed to chemicals, insects and other pests.
Properly cleaning your grill can help reduce grease and particle buildup, which decreases the chances of a fire incident occurring, as well as the spread of germs and foodborne illnesses. Translation: you'll earn major points with friends and family further your reputation as the ultimate grillmaster.