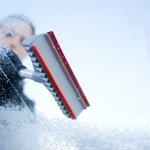 How to Winterize Your Vehicle
Now that we have entered November and the end of Daylight Savings Time has passed, it's time to start planning for winter. Despite the seasonably-warm autumn, New Englanders have enjoyed, the winter season is inevitable and so too are cold weather and the dreaded four-letter word — snow.
While there are many positive aspects of winter, including the holidays and opportunities to ski, snowboard and ice skate, winter in New England has a negative connotation. One of the main reasons why New Englanders dread the season following autumn is driving. Driving in the winter can be quite a challenge due to the presence of snow and ice on the road, poor visibility, and mechanical issues that plague vehicles. While winter driving in New England is rarely a walk in the park, there are several easy ways in which drivers can prepare for it and make it through the season with their sanity and vehicle intact.
Start me up
Most mechanical issues during the winter stem from the vehicle's battery. The cold, sometimes frigid temperatures make it more difficult for the vehicle's battery to start properly. Get a leg up here by having your battery inspected, and if necessary, replaced before the first snowfall of the season. Additionally, it's a good idea to keep jumper cables in the trunk or storage compartment of your vehicle in case your battery needs a quick boost.
Seeing is believing
Poor visibility is another core reason why there seems to be an uptick in accidents and mechanical issues during winter. Drivers can be proactive by making sure windshield wipers are in working order, and their fluid levels, including wiper fluid and antifreeze, are up to par. With regards to the interior of the vehicle, it's best to make sure the vehicle's heating system is functioning so it can properly defrost the windshield. Also included in this category is making sure the front and rear lights are functioning properly.
Gaining traction
Due to the presence of snow, ice, and fluctuating temperatures, roads can become very slippery, especially early in the morning and late at night. New England drivers should ensure their tires have a sufficient amount of tread to help them maintain traction throughout the winter season. For vehicles that require an additional layer of traction, snow tires may be a more suitable option. Now is also a good opportunity to have your tires rotated if it has been a while since your last appointment.
Your winter survival kit
Before the first snow hits, make sure to assemble and store an emergency kit in your vehicle. The kit should contain, at a minimum, a scraper, small shovel, jumper cables, flashlight, blanket (in case you need to wait for roadside assistance), tire gauge, bottled water, nonperishable food, winter hats, gloves, scarfs, portable cell phone charger, battery-operated radio, emergency flares, and reflectors. You never know what might come in handy in the event of an emergency, so it's wise to stock up on these items before you need them.
Of course, these are just a few of the many easy ways that drivers can prepare for winter driving. Be sure to consult your local car care for additional tips and information.