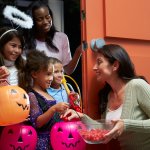 Trick-or-Treating Safety
Trick or treating is a cherished Halloween tradition that is enjoyed by both children and parents alike. Costumes, candy and the opportunity to enjoy quality time with friends and family make trick-or-treating a surefire way to create fond memories with those you love.
Although there are several ways in which trick-or-treating can be a blast, there are also many things parents should be aware of before heading out for the night to ensure everyone enjoys a safe and incident-free experience.
Plan ahead
Many communities have set times for trick-or-treating, typically beginning just before dusk. In the majority of communities, trick-or-treating typically occurs on Halloween (October 31st), but some may observe it on the day before. Make sure to check the trick-or-treating schedule in your area to avoid missing out on the fun.
Map it out
Before you go wandering around aimlessly, have an idea of the route you will take during your trick-or-treating excursion. Avoid areas that have dangerous intersections, higher crime rates and long distances between each house. It's best to trick-or-treat in an area that you are familiar with, as it can be easy to get lost, especially once the sun sets.
Light it up
Make sure to carry a flashlight and ideally, add some reflective tape to your child's costume so that drivers may easily detect them. Observe good judgment by utilizing all crosswalks and sidewalks and making sure everyone stays together.
Dress comfortably 
Trick-or-treating requires a fair amount of walking from everyone involved. Make sure you and your child wear comfortable clothing and footwear, even if it clashes with the costume. Uncomfortable shoes or restrictive costumes can sure put a damper on the night very quickly. Make sure to check the forecast before you leave and dress appropriately for the conditions.
Don't get tricked with your treats
Make sure to inspect the candy that your child accepts from neighbors. Never accept candy that has been opened and to be safe, any baked goods or candy alternatives. Practice good Halloween etiquette by making sure your child takes an appropriate amount of candy, leaving some for other children. To save time, skip any homes where the lights are off or it looks like no one is home.
Four-legged friends
While many parents and children want to share the trick-or-treating experience with their four-legged friends, it's best to leave dogs at home. While your pet may be well-behaved at home, there is no guarantee of how he or she will behave in the presence of small children and potentially, several other dogs. Make it up to your four-legged friend with a canine-friendly Halloween treat.
Most important of all, have fun and Happy Halloween!