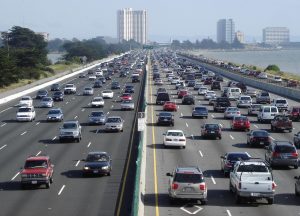 Labor Day was originally created to recognize American workers and their contributions to the country's economy. A federal holiday since 1894, Labor Day means a well-earned day off for many. It has also become the unofficial end of summer, and thus, the last hurrah for anyone looking to enjoy the pleasant weather that it is still prevalent.
Always falling on the first Monday of September, Labor Day is also the time of year when schools typically resume session (either prior to after Labor Day). The combination of Labor Day and back to school can cause a plethora of traffic issues.
Here are a few pieces of advice that will help you stay cool, calm and collected on the road during this hectic time of year.
Allow Yourself Plenty of Time
Whether you are heading to your favorite vacation spot for the holiday weekend, or helping a friend or child move into college, give yourself plenty of time. Labor Day consistently ranks at or near the top of the list of worst travels days during the calendar year. Wherever you are headed, make sure you account for the strong possibility of heavy traffic.
Try to Travel During Off-peak Times
For Labor Day Weekend travelers, avoid peak times, such as Friday and Monday afternoon and evening if at all possible.
If you live in a community with a large concentration of schools, avoid early mornings and mid- afternoon, when most K-12 schools get released. Additionally, do not tailgate buses – stay the required 50 feet behind. When the bus comes from to a stop, do not try to go around it; it is likely dropping off passengers who may be crossing the road.
Watch Your Speed in School Zones
Rhode Island law prohibits drivers from surpassing 20 MPH in a designated school zone. When approaching a school zone, drivers should not only reduce their speed, but also look for pedestrians crossing the road. Slowing down allows more time for decision making and thus, greater ability to avoid a potential accident.
Take Alternate Routes
Most navigation apps provide alternative routes when the default route is heavier than usual. Before heading to your destination, take a look at which route has the least traffic and calculate how much time, if any, it will add on to your trip.
Have a safe and relaxing Labor Day Weekend and best of luck to students heading backing to school!