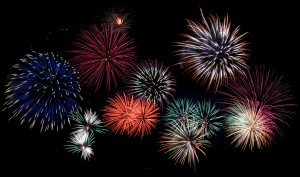 Now that Memorial Day has come and gone, the next big summer holiday, Independence Day, is quickly approaching. Every Fourth of July, millions of Americans celebrate their country's heritage with cookouts, parties and everyone's favorite – fireworks.
Fireworks are as much a part of Independence Day as red, white and blue clothing and unbearable beach traffic. Unfortunately, not everyone who incorporates fireworks into their July 4th plans uses them responsibly. A lack of regard for one's own safety also puts others' safety in danger. Below are a few quick ways in which you can enjoy a safe and incident-free Fourth of July.
Check Local Laws on Fireworks
Nothing ruins a party more than a visit from the police. Before using or even purchasing fireworks, be sure to check the local laws and regulations on firework use. Rhode Island is very strict about the use of fireworks at one's residence. Only "ground and hand-held sparkling devices" are permitted in the state.
By definition, such fireworks do not rise up, launch from the ground or explode. That means firecrackers, bottle rockets and most of what we consider fireworks are illegal in Rhode Island.
In Massachusetts, fireworks are illegal to both use and sell. This includes:
Toy cannons
Firecrackers
Cherry bombs
Silver salutes
M80's
Torpedoes
Sky-rockets
Roman candles
Sparklers
Rockets
Wheels
Colored fires
Fountains
Mines
Serpents
Any other fireworks "containing any explosive or flammable compound, or any tablets or other device containing any explosive substance."
Penalties in Massachusetts for the use or sale of fireworks range from a $100 fine to imprisonment of up to one year.
When in doubt, check with your local town government or fire department for clarity on what is legal and illegal.
Enjoy from a Safe Distance
Assuming you are using permitted fireworks, you should always enjoy their amusing effects from a safe distance. Keep fireworks that are lit far away from your face and other parts of your body. Also make sure young children and pets are viewing from a safe distance.
Most firework-related injuries are caused by a lack of common sense. Fireworks are unpredictable – sometimes there is a significant delay after they are lit. The typical — and dangerous reaction to this situation — is to bring the fireworks closer to diagnose why they did not ignite or explode.
It should go without saying, but never use fireworks indoors. Doing so is simply asking for trouble and could easily cause a fire.
Be Prepared
Always have a bucket of water or fire extinguisher nearby to put out any fire caused by fireworks. In the event of a major fire, do not hesitate to call 911. The sooner you do so, the less potential damage there will be.
Also wait for fireworks to completely cool off before disposing of them. Picking them up shortly after their use could cause burns or serious injuries.
Being prepared also means wearing glasses to properly protect your eyes in the event of a malfunction.
Use Common Sense
At the end of the day, fireworks safety is about common sense. Never light more than one (permitted) firework at once and if you don't know what a firework does or how to use it, then avoid lighting it altogether. Lastly, alcohol and fireworks is always a bad combination.
If you sustain firework-related injuries as a result of someone else's negligence or faulty judgment, request a free consultation from Attorney Resmini today!