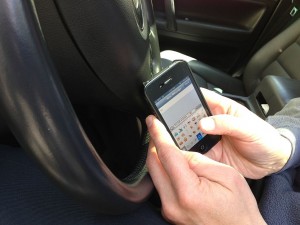 The Massachusetts Highway Safety Division has informed Bay State drivers that it is seriously tightening up its laws on distracted driving. Massachusetts has received federal funding to more stringently enforce distracted driving laws across the state. While texting remains the most common example of distracted driving, the law also refers to drivers who check their emails, adjust their radio or set their GPS navigation while operating a vehicle.
The increased emphasis on penalizing drivers that exhibit distracted driving is part of the Highway Safety Division's "U Drive. U Text. U Pay." campaign. In 2010, Massachusetts passed its Safe Driving Law, which prohibited drivers under 18 from using a cell phone at all while driving.
Contrary to popular belief, distracted driving fatalities were actually most prevalent among the 45-54, 55-64 and 75+ age groups. This is based on data gathered by the Mass. Executive Office of Public Safety from 2010-2013. During that three-year stretch, 184 people lost their lives due to distracted driving accidents in Massachusetts. More recently, in 2014, distracted driving accounted for 10% (3,179) of all motor vehicle crash fatalities. Also, according to Pew Research, more than half of adults (53%) have been involved in a distracted driving incident in some way.
State and local police in Massachusetts say they will be looking for anyone exhibiting unsafe behavior behind the wheel, most notably texting while operating a motor vehicle.
The Ocean State is just as strict when it comes to distracted driving. According to handsfree.info, the following is currently prohibited in Rhode Island:
Text messaging outlawed for all drivers on Rhode Island roads.
Drivers under the age of 18 prohibited from using cell phones.
School bus operators prohibited from using cell phones while driving.
Distracted drivers in Rhode Island may be issued a $250 fine and in more severe or repeat instances, the suspension of one's license. A bill was signed by the Senate on March 9, 2016 that would restrict the use of "handheld communications devices" by all drivers. The bill's creator, Sen. Susan Sosnowski, proposes a maximum fine of $100 and amnesty for first-time offenders who purchase hands-free accessories. The proposed bill still needs to make it through the House, and would not take effect until 2017.
All throughout New England, the fact remains: distracted drivers will pay a price for their unsafe behavior. Whether it is an incoming text message or phone call, it can wait. If you absolutely need to use your mobile phone, pull over to a safe spot, far away from traffic, to avoid putting your own and other drivers' lives at risk.