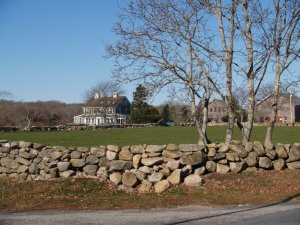 The town of Westport is located in Bristol County, and got its name due to the fact it was the westernmost port of the Massachusetts Bay Colony. It was settled in 1670 as part of Dartmouth. Westport can be reached via I-195, U.S. Route 6, and Massachusetts Route 177. The town spans just under 65 square miles, and 14 of those miles are water. Most of that water comes from the Watuppa Ponds along the border Westport shares with Fall River, in addition to Westport Harbor, where two portions of the Westport River meet before pouring into Buzzards Bay. Neighboring towns bordering Westport include Fall River and Dartmouth, in addition to the Rhode Island towns of Little Compton and Tiverton. Westport itself lies 60 miles south of Boston, and just 30 miles southeast of Providence.
There are a slew of unofficial districts to Westport. Those areas include Head of Westport, South Westport, Westport Point, Central Village, North Westport, and Westport Harbor, which is also known as Acoaxet. The total number of residents sits around 15, 532. Horseneck Beach State Reservation is located in the southern portion of Westport, and is a popular destination in the summer for many people in the area.
Attorney Wayne Resmini gladly serves Westport by offering personal injury services, and will fight for your rights and maximum compensation. Attorney Resmini is proud to represent clients involved in car and motorcycle accidents, medical malpractice, product liability, slip and fall accidents, workplace injuries, wrongful death, and dog bite cases in Westport. For more information, please contact us today!