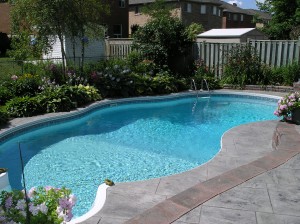 Now that Memorial Day has come and gone, summer is (unofficially) underway in New England. After being cooped up all winter and spring, New Englanders are eager to spend as much time outside as possible. A popular summer pastime in New England, and most regions of the country is swimming in one's own backyard. Backyard pools are a convenient way to beat the heat when there are no beaches nearby and the municipal pool is just too crowded. Pools can provide fun and entertainment for all -especially kids.
However, as with any summer activity, New Englanders should be sure to enjoy safely and responsibly. Unfortunately, according to the Red Cross, nearly 200 children drown each year in backyard swimming pools. Pool owners can be held liable if a child or anyone else is injured or passes away as a result of their negligence.  The following tips will not only help you avoid any pool-related accidents, but also make sure that guests enjoy your swimming pool in a responsible manner.
Fences
Under Rhode Island law, pool owners must construct a fence that is at least 48 inches (four feet) tall and has no more than 2 inches of clearance at its base. Regulations also stipulate that "openings in the barriers shall not allow passage of a 4-inch diameter sphere." Additionally, access gates "shall be equipped to accommodate a locking device" and any other gates in addition to the pedestrian access gates "shall have a self-latching device."
Massachusetts has a similar fence code for swimming pools, and in both states, barrier regulations apply to both above-ground and in-ground swimming pools.
In addition to state regulations, it is also recommended that homeowners put a cover over their pool when it is not in use. Alarms that detect entry into the pool area are also a wise idea. Homeowners should regularly examine their pool fence for any holes or defects, and test the locking mechanism frequently.
Pool owners should check with their local or state government regarding any specific pool laws and regulations.
No One Should Swim Alone
While most people have been told at least once in their life, it bears repeating: no one should swim alone. This includes kids, adolescents, teens and adults. Drowning is not the only risk with swimming alone. Swimmers may severely injure themselves when using the diving board or entering/exiting the pool. If no one is around to seek medical attention, the swimmer is on his or her own. All swimmers should swim with a friend or family member, even if it is just for a few minutes.
Those supervising young children (babysitters, guardians, parents) should not take their eyes off of the pool. If a trip to the bathroom or house is needed, all swimmers should be removed from the pool.
Along the same lines of swimming alone is swimming at night. Unless your pool is equipped with lights, swimming at night is a bad idea. Due to limited visibility, you are much more likely to injury yourself at night.
Avoid Diving/Flips
Unless you are an Olympic or competitive swimmer, it's best to avoid doing any extreme dives or flips. While everyone wants to show off, dives and flips pose a severe risk to one's back and neck muscles.
Take It Slow
Young children are naturally excitable and swimming pools tend to only escalate things. If you are supervising young children or adolescents, remind them to walk, not run, around the pool area. Running on wet surfaces is an accident waiting to happen. Young children and adolescents should also stay in the shallow end and use flotation devices (a.ka. swimmies/floaties) if they cannot swim on their own.
By adhering to local fence laws, keeping a watchful eye on the little ones, and avoiding any Olympic-worthy swan dives, pool owners can enjoy a safe, relaxing and stress-free summer.