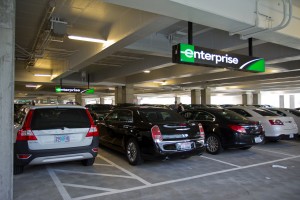 Temperatures are rising in New England and spring is (hopefully, fingers crossed) right around the corner! Assuming the region is safe from any late-winter snowstorms, the improved weather means an increase in drivers on the road. Whether taking a trip to see the flowers bloom or visiting their favorite ice cream stand that opens every spring, New Englanders love to get outside and explore.
Based on industry data, April is also the start of rental car season, which, unsurprisingly, peaks during the summer. If you typically rely on a borrowed set of wheels to get around, there are a few things you should be aware of.
Insurance
Deciding whether or not to purchase insurance with your rental is arguably the most important decision drivers make. The age-old adage, "Better safe than sorry" applies here, whether taking a short trip down the road or crossing multiple state borders. Despite the added cost, insurance does exactly what it is supposed to – serve as financial aid in the event of an accident.
Furthermore, if you are renting a car, you are probably driving in an area with which you are not familiar. Thus, taking your eyes off the road to look at your GPS could result in a fender bender – or worse. You also don't want to worry about driving an uninsured car throughout your entire trip.
Play it safe by always adding insurance to your package. Or, better yet, check with your personal auto insurer to see if rental insurance is included.
Read the Fine Print
Be sure to skim your rental agreement to identify any additional charges or regulations. It is well known that those under the age of 25 typically pay a premium fee. However, some rental car companies may charge you for things that you don't think of ahead of time. Common examples include gas, GPS rental and car seats if you are traveling with a toddler.
Does your rental include a mileage limit? If so, how much will you pay if you go over?
It's best to get an idea of the final amount you will pay prior to picking up your vehicle.
Avoid the Airport
Many travel experts and enthusiasts agree that if you're flying to your destination, look beyond the airport for rentals. Due to the close proximity to terminals, you will likely pay extra if you rent from airport car rental companies. Some airports offer complimentary shuttles to nearby rental car providers. Shop around for the best deal and avoid renting from companies located at the airport if possible. If it will cost less to book your flight and car rental together, then obviously such is reason enough to do so.
Normal Driving Laws Apply
Before you hit the road with your rental, make sure you aware of local speed limits and other laws with which you may not be familiar. Driving laws differ by state in many cases – as such, it's best to be aware of any before you unintentionally violate one. It's also wise to restrict driving duties to the person whose name is on the rental agreement. Not doing so could cause serious problems in the event of a traffic violation or accident.