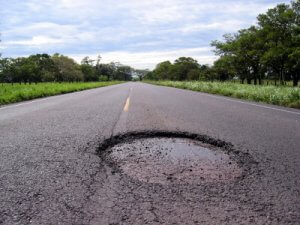 After a long New England winter, it can be quite refreshing when spring finally arrives. Warmer temperatures, flowers, and trees blossoming and longer days all seem to be effective mood boosters.
For drivers, it can be a relief to not have to drive on icy, snow-filled roads anymore. While the improved weather seems to increase the amount of drivers on the road, it is generally less stressful to drive on New England roadways in spring versus winter. However, there is one infuriating residual effect that winter creates – potholes.
Hitting a pothole with your vehicle is among the most frustrating and startling events that can happen on the road. Potholes are often difficult to spot, which can add to the damage caused to your vehicle if you do not have enough time to slow down and avoid them. Potholes can cause severe damage to your vehicle especially if you are not expecting them.
What are potholes?
Simply put, potholes are holes in the road that form as a result of the ground constantly freezing, expanding and melting. The average New England winter brings cold temperatures which can sometimes fall below zero. Winter in New England also typically brings plentiful snow and ice. However, as most New Englanders know, the weather conditions are often subject to change, and it is not uncommon to get a 60 or 70-degree day in the middle of winter.
Constant temperature fluctuations cause the ground to consistently expand and contract, which creates crevasses and breaks in the foundation of the road. Come springtime, more drivers are present on the roadways and drive over potholes, which diminishes the road foundation even further.
How to avoid potholes
Preventing potholes is as simple as paying attention to the road. Some cities and towns will put out orange traffic cones to detour drivers around potholes. If you do spot a pothole, gradually reduce your speed and slowly drive around it. Be sure to check for other drivers before switching lanes to avert a pothole.
If you notice potholes in your area that go unaddressed, contact your town or city office to file a request to have the potholes filled. Potholes are not just a danger for drivers, but also cyclists, runners, and pedestrians who all share the road.
Many communities have also started listing a map of potholes on their website to alert drivers. Additionally, smartphone apps such as Waze also let drivers know when they are navigating towards a reported pothole.
By simply being aware of the road and utilizing the web and smartphone apps, drivers can avoid potholes and potential damage to their vehicles.