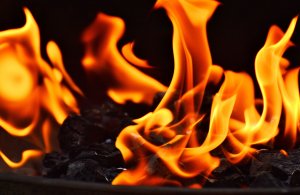 With Memorial Day in the rearview mirror, the summer season is unofficially here and so too are barbecues, campfires, cookouts, graduation parties, and other celebrations! Being outdoors again is a relief to many after enduring a seemingly never-ending New England winter. Before you light up the grill or campfire, there are several important precautions that should be taken to ensure a safe and enjoyable outdoor experience this season.
June and July are the peak months known for fire-related incidents when it comes to grilling. There are various styles of grills, including charcoal and propane, that can cause grilling-related injuries or burns. In 2014, 16,600 patients were admitted to emergency rooms due to injuries caused from grilling. Among the leading causes of injuries from grilling is not properly cleaning the grill after using it and placing it in an area that is too close to another object.
To prevent the worst from happening, here are a few safety tips and reminders for grilling activities and campfires:
A common sense and arguably the most important rule is to never leave your grill unattended while it is in use.
Avoid starting a fire with a flammable liquid substance. Too much fluid could spark an uncontrollable fire.
Choose an open location away from tall grass, leaves, or other debris that could cause a fire to spread.
Make sure the grill is well away from the house, wall, deck, and railings.
Make sure the smoke released is not trapped in a closed or covered area (i.e. under branches or awnings).
Always keep and use charcoal and propane grills outside when cooking.
Be sure young children are kept well away from an open fire to prevent the likelihood of burns or other injuries.
Keep all flammable materials away from a grill or fire. Have those materials stored in a nonflammable container away from any flames. A lingering spark could be a possible trigger to an unexpected fire.
Do not smoke near a grill when using propane. If there is a strong odor of gas, step away from the grill and call your fire department immediately.
Keep a campfire at a containable level. If the fire is kept at a manageable level, then it can be easily put out if need be.  Always keep a bucket of water or sand nearby just in case.
ALWAYS make sure the fire is COMPLETELY out before leaving the area unattended.
Minimizing potential fire hazards and taking proper precautions will help you and your guests safely enjoy summer celebrations and activities.