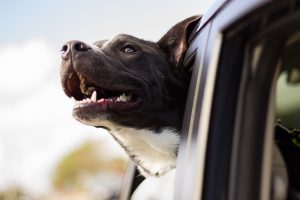 Pets have become as much a part of our day-to-day lives as humans. Instead of leaving them behind at home, many pet owners now opt to bring their furry friends along with them on errands and road trips. While this is not a huge concern during the majority of the year in New England, it does become an issue come summertime.
A large amount of owners bring their pets with them in the car as they run errands around town or embark on their summer vacation with the rest of the family. They may stop at the bank or local coffee shop and promise their pet that they will be right back, leaving them in the car. Perhaps there is a longer line than they expected or the service is unusually slow that day. Whatever the case may be, leaving your pet in the car – even with the windows rolled down – poses a serious threat to their health, and greatly increases the chances of the pet suffering a heat stroke.
The American Veterinary Medical Association (AVMA) reports that hundreds of pets die each year as a result of being left in a vehicle unattended. Per the AVMA, the temperature can rise 20 degrees Fahrenheit in just 10 minutes' time. After 20 minutes, the temperature can rise 30 degrees Fahrenheit. This means that even on a 70-degree day, the temperature inside a car can rise to 100 degrees Fahrenheit in a very short period of time. Contrary to what many may believe, leaving the windows rolled down has very little effect on the interior temperature.
What's the alternative?
Preventing your pet from suffering heat exhaustion is very simple. Never leave your pet unattended in a vehicle during warm weather. If possible, bring someone with you who can watch your pet while you run your errands. Or, simply leave your pet at home. Some businesses are pet-friendly and will also allow you to bring them inside. Obviously, it's best to make sure pets are allowed inside the establishment before doing so.
If you are bringing your pet with you on a summer road trip, make sure to run the air conditioning to limit the chances of your pet suffering heat exhaustion. Also bring a water bowl so your pet can stay hydrated and cool throughout the trip.
It's the law!
In Rhode Island and Massachusetts, it is illegal to leave pets in a vehicle unattended or subject them to unnecessary cruelty. Violation of this law may result in a $1,000, imprisonment, or both. Law enforcement and animal control officers are legally permitted to remove animals from a vehicle if the animals are in danger due to the negligence of the owner.
Other safety tips
In addition to not leaving them unattended, owners should also be mindful of their pets while driving. Having a pet sit on your lap is dangerous as it can cause a serious distraction. For pets that have anxiety traveling, it's best to make sure they are calm and collected before loading them into the vehicle. Or, simply limit the amount of travel until they adjust.
It's also wise to make sure your pet is seated securely in the vehicle in order to avoid an injury. In Rhode Island and Massachusetts, it is illegal for dogs or other animals to travel in an open bed of a truck or similar vehicle, unless:
the space is enclosed or has side and tail racks to a height of at least 46 inches extending vertically from the floor;
the animal is cross-tethered to the vehicle
the animal is protected by a secured container or cage;
the animal is otherwise protected in a manner that will prevent the animal from being thrown or from falling or jumping from the vehicle.
Leaving your pet in a vehicle unattended also poses the risk of the pet being stolen – something that may not be on the top of every owner's mind.
Be a good Samaritan
If you see an animal that is panting, having difficulty breathing, or otherwise suffering heat exhaustion, try to locate its owner by entering the business where the vehicle is parked. The business' staff can make an announcement in an attempt to locate the rightful owner.
By taking the proper precautions, you and your pet(s) can enjoy a safe and stress-free summer!